Humboldt Redwood Lumber is the naturally strong, naturally beautiful choice for decks and fences.
Homeowners and contractors alike love working with Humboldt Redwood lumber due to its strength, durability, and versatility.

Redwood lumber is a tough product to find and large quality differences exist.
Front Range Lumber only stocks "B Grade" redwood in Metro Denver and Northern Colorado, which contains both sap (white) and heart (red) portions of the logs. This results in much closer to a "clear" (few to no knots) board.
We switched many years ago to B grade in 2×12 from an all-heart grade because while the all-heart grade was all red (heartwood), those pesky knots were always in the wrong place when our customers wanted to cut stair stringers or notches in the board. Over time, we converted all sizes to B grade.
The available selection will always change, and we constantly strive to carry a complete selection of lengths from 8′ through 20′ in both 1x and 2x thicknesses.
We suggest you check out the appearance and quality of what you may receive.
Redwood sawmill cross section.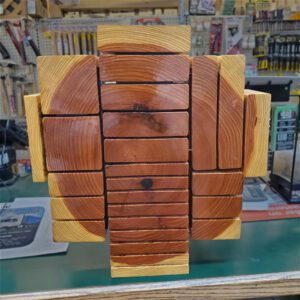 Refer to the redwood log cross section photo. It shows the "heart center" (as further described below) already splitting. It shows the heart wood – in the case of redwood, the core of the tree. The whiter sapwood is shown. It shows the "yield" off this particular log. It "proves" the non-100% utilization of the log (i.e. that some of the log cannot produce any size board). It shows that, even well into the log, other "defects" exist (pitch pockets, rot, voids, etc). It illustrates the grain pattern each board will have based on where it was cut from the log.
Free of Heart Center (FOHC).
Note that our STOCKED inventory 6×6 (8' and longer) is 100% FOHC – free of heart center – this means the timber has been cut so as to NOT include the center of the tree. Any timber that DOES have the center of the tree will crack and twist far more than those that don't. The cracking will radiate out from that tree center as the timber dries out. Therefore, our FOHC timber perform better in such uses as pergolas and deck posts. 6' pieces will NOT be this grade.
Note also that we sell a great line of hardware specifically intended for pergolas – check it out at www.ozcobp.com.
"Treated" Redwood is a contradiction in terms. REAL Redwood does not need treating.
Redwood already has the natural tannins in it to resist rot and decay and insects. To further chemically treat it is a misnomer.
Other retailers confuse the situation by calling their TREATED lumber "redwood-tone" or "red-treated" and other similar names. These are NOT Redwood that has been treated – they are framing lumber treated with preservatives with an added stain to color the wood to mimic the appearance of Redwood.
Whether you are building a deck, outdoor garden structure, lawn furniture, or privacy fence, Humboldt Redwood is the perfect material for the job.
Humboldt Redwood decking materials require less time, materials, and labor to build with than some other decking materials, saving time and money during installation. For example, Humboldt decking can span up to 24" on center from joist to joist, other materials may only span 16" and in some cases only 12".
That's like building a deck under your deck. Read more about Humboldt Redwood and see for yourself why homeowners and contractors alike love working with this amazing, natural wood.
Humboldt fencing is one of the most popular fencing options available. While the strength and durability of Humboldt Redwood are legendary, it is also lightweight and easy-to-work-with. Available in several dimensions and lengths, Humboldt Redwood is a versatile, long-lasting option for your next fencing project.
Why choose Humboldt Redwood?
Choose Humboldt Redwood for many reasons, including natural beauty, natural strength, and natural durability. For these reasons and many more, Humboldt Redwood is the perfect material for that deck, garden structure, planter box, or landscaping project you've been considering.
Humboldt Redwood's unique combination of aesthetic appeal, warm color, versatility, strength, and long-lasting durability make it an unparalleled building material. What's more, Humboldt Redwood is a renewable resource harvested using Sustainable Redwood Forestry practices.
Humboldt Redwood is also environmentally friendly.
Renewable, recyclable, and biodegradable, the environmental impact of is minimal.
More information on Humboldt Redwood Lumber.
Penofin Stains: Ready to stain? Check out our Penofin Stains page.
CAMO Hidden Fasteners: CAMO fasteners make installing redwood boards easy. Check out the videos below for important tips and advice.
Pergola Hardware: Starting or repairing a pergola? Check out our OZCO Pergola Hardware Catalog below under Downloads!
Read our blog post where we share Common Pergola Questions, 5 Things to Consider When Adding a Pergola, Materials You Can Use to Build a Pergola, and more.