Front Range Lumber is an authorized Grip-Rite® dealer.
Grip-Rite®  is now the top-selling brand of fasteners in America, and is committed to making your collated fastener purchase simple and easy.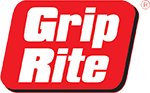 Grip-Rite Fastener's Large Product Offerings:
Fasteners, nails and screws, nuts and bolts, threaded rod.
Collated fasteners designed to fit Grip-Rite tools and many others.
Flexible strip collated screw system: collated screws, adaptors and accessories.
Tools, compressors, hoses and fittings: complete pneumatic fastening system.
Fencing and wire products for both urban and agricultural environments.
Concrete accessories: rebar, steel stakes, accessories.
Poly products: house-wrap, curing blankets, reinforced poly, tarps, poly sheeting, barrier fence, silt fence, poly fence.
Building products: builders hardware, building paper, felt paper.
The Grip-Rite family of products continues to grow, offering solutions to jobsite challenges and construction needs. Stop in to Front Range Lumber to find out about the newest Grip-Rite products for your project.
Use the Grip-Rite Cross-Reference Guide below.
With the guide, you can quickly identify which tools are compatible with each type of Grip-Rite collated fastener, and vice versa (which Grip-Rite collated fasteners will fit your tools).