We stock a full variety of Trex Composite Decking products for Metro Denver and Northern Colorado.
Why use Trex for your Metro Denver and Northern Colorado home project?
Trex outperforms wood, plain and simple. Their high-performance composite deck boards are engineered to resist fading, scratches and stains, and eliminate time-consuming maintenance so you'll never step foot in the stain aisle again. Trex deck boards are eco-friendly, made of 95% recycled materials. Read on to see the different types of this composite material to meet your needs and budget. Stop in for free Trex color samples!
Tips for using Trex.
Here are a few 'tricks of the trade' that Front Range Lumber has learned in the 14+ years we've been dealing with Trex Products. This is not to be interpreted as a warranty nor should any of these hints override any of Trex's own instructions. Please refer to their full instructions or call 1-800-BUY-TREX or access www.trex.com.
Trex has changed their product numerous times over the evolution of the composite deck market. Make sure you have the latest information, including specific installation methods.
The most common Trex decking is 7/8" or 1" thick now and may be used in all applications, including stairs as specified. Trex is NOT structural, therefore cannot be used for joists or beams under any condition.
Prevent waviness or "warping" of Trex by storing as flat as possible. The preferred method of storage is to lay the Trex across multiple "stickers", that are approximately 24" apart (2×4's or other scraps of lumber placed underneath to hold and support the product off the ground).
Avoid laying Trex directly on rock or gravel beds or other irregular surfaces to prevent any marring of the product. Prevent staining by avoiding contact with dyed paper, treated lumber and so on.
Are Trex products better than wood?
When it comes to composite decking vs. wood in Denver, there's more to the story than the upfront price. While wood may be cheaper on day 1, it could end up costing you far more by day 365 (and well beyond).
This composite decking material means quality, beauty, and minimal maintenance, saving you time, money and everything that comes with a call to a handyman. Plus, the high-performance composite shell of Trex decking resists rotting, staining and cracking.
Types of Trex Composite Decking
BEST = Trex Transcend® Earthtones and Tropical
Transcend offers elevated aesthetics paired with the highest level of performance.
Unparalleled Beauty: Transcend decking's deep wood-grain pattern and luxury colors create a premium, ageless look that leave other composites in the dust.
Hassle Free: No sanding. No staining. No painting. Simple soap-and-water cleanup.
Fade, Stain, Scratch and Mold Resistant: Transcend decking maintains its vibrant color and luxurious finish–come scorching sun or red-wine spill–thanks to its unyielding, three-side shell protection…and their 25-Year Limited Residential Fade & Stain Warranty.
A Green Deck: See how using a 95% recycled board makes you feel about the great outdoors.
Stunning Color Options: Transcend comes in multiple color options: Havana Gold, Island Mist, Lava Rock, Spiced Rum, Tiki Torch, Gravel Path, Firepit, Rope Swing, Tree House and Vintage Lantern.
BETTER = Trex Select® Earthtones
It's Trex, Simplified. Select Earthtones is the perfect pairing of price and minimal maintenance. With such an easy design scheme, Trex Select decking and railing adds their legendary luxury to your home more affordably than ever.
While Select decking features their hallmark high-performance shell technology and nature-inspired colors, the complementary white railing is a simple solution for a clean finish. Now more than ever, you can complete your high-caliber outdoor living system without compromise.
BETTER = Trex Enhance® Naturals / GOOD = Trex Enhance® Basics
The beauty of wood with the ease of composite.
Two Worry-Free Collections: If you seek the durability of composite and the affordability of wood, opt for Basics. This long-lasting decking requires little upkeep and comes in three traditional colors.
For an authentic wood-grain appearance, choose Enhance® Naturals. This high-performance collection includes five multi-tonal colors inspired by nature.
Enhance® Basics and Enhance® Naturals both offer fade and stain protections, as well as enhanced mold and mildew resistance, to make maintenance simple. And because the boards are scalloped, they're as lightweight as lumber – without the extra work.
Get free Trex color samples at our Lakewood and Fort Lupton lumber yards!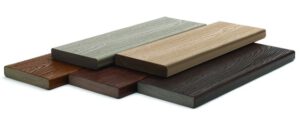 Each piece of Trex has a tag at the end of the board for identification. This will indicate the source of that particular board including the plant, shift and year manufactured, together with the color.
We recommend that you re-cut both ends of each piece of Trex to obtain a clean crisp end. We recommend that you keep at least one end "scrap" for possible reference in the unlikely event of a warranty claim.
The Selects version of Trex are colorfast in the following colors:
Winchester Grey
Pebble Grey
Saddle
Woodland Brown
Madiera Red
Selects replaced the along lasting Accents version. Basic installation remains the same. Note that Selects is a PVC wrapped product on three sides. The underside will look completely different.
The Transcends version of Trex are colorfast in the following colors:
TreeHouse
Gravel Path
Firepit
Vintage Lantern
Ropeswing
Lava Rock
Tiki Torch
Spiced Rum
Front Range Lumber Company has a complete selection of decking, railing and more, including:
Decking
Timbers
Pergolas
Hardware
Railing
Trellises and Arbors
Lattice
Deck Lighting
Accessories
Installation
Trex can be painted, stained or otherwise sealed. However, we strongly recommend against this since it defeats one of the major points of using Trex – low maintenance.
The ¼" minimum gap between the boards in all directions MUST be preserved during installation (or other spacing per Trex's instructions). A gapping/spacing tool is the easiest way to accomplish this. Strictly follow Trex's instructions regarding this gap, which includes BOTH end-to-end and side-to-side gapping. Since the gap changes with the prevailing temperature, prior to installation, it is helpful to leave the product in full sunlight even if installing in shaded areas.
Starting in 2013, the latest series of Trex products – SELECTS – will be available. Manufactured in the same colors as Accents, Selects will be replacing Accents by the end of 2013. Selects is a PVC capped (wrapped) version of Accents, providing superior fade and scratch resistance. All installation and other methods carry across to Selects.
Fastening
Always use screws, never nails; on any composite product, including Trex. Hidden fastening systems can be used, again only with screws. Front Range Lumber advises against using invisible systems on any product unless specifically made for Trex as there may not be enough "meat" (thickness) in the decking to adequately grip other fasteners. Further, Trex, like most brands will only honor their warranty if their own proprietary clip system was used. Decking should be fastened on every joist on every deck board.
There are lots of fastener options, with more coming on the market all the time. In addition to appearance reasons, consider how much a fastener system will add to the cost of your project and how difficult it is to use (some may require very special bits, underside installation, special tools, etc). Brands such as DeckFast offer color-matched screws for all possible Trex products.
To the best of our knowledge, Trex doesn't recommend a specific fastener system other than their own connector clip system for the grooved deck boards. Some customers have observed hidden fastener installation creates a less solid feel as the deck is walked upon. Front Range Lumber recommends a square or Torx/star drive bit/drive system. This type gives you a better, easier, more secure installation and there are fewer screws broken or stripped.
Stainless steel fasteners are the only fasteners that will NEVER rust or discolor (they are also the most expensive.) On full headed screws, line up screws carefully both across the deck and side-to-side on each board to ensure a clean layout appearance. If you use screws to attach balusters, at least a ¼" x 3" lag bolt with washer, available in both black and zinc colors.
We've seen many homeowners mix the colors of Trex – one for the decking and another for trim &/or the handrail system. Other ideas include using some sort of wood for the handrail component and staining it for a more natural look. Note that many covenanted areas require that any component seen from the street or neighbors must be painted/sealed similarly to the rest of the house.
Pre-drilling is usually not necessary when installing the actual decking. Pre- counter sinking can be done when using full head screws if a cleaner look is desired.
Pre-drilling is helpful when building the rail system because it will hold pieces in position, which enables more complex designs and reduces the number of hands required.
Although Trex drills cleanly, it does tend to dull bits – use a fresh bit when drilling.
You can cut, drill, route, sand or otherwise machine Trex as you would do to wood. It leaves an excellent routed edge. Never notch or cut the 2x2s, 2x4s, 4x4s or any other handrail component in ANY manner other than to cut to your desired length. Note that cutting will expose the substrate as you cut away the PVC capping.
Whether you get a building permit or no, it is common sense to codes for safety and long use. Pay particular attention to:
Proper ledger attachment to the house.
Proper joist spans and sizing
Correct post bases, post caps, joist hangers along with their required fasteners to ensure a continuous load path to the ground. This avoids wind damage or collapse.
Proper air space below the deck. If "sleepers" are used, meet Trex's specifications.
Overall installation to qualify for Trex's warranty coverage.
Handrails and Stairs
Front Range Lumber recommends constructing your handrail in such a way as to allow a gap between the bottom rail and the decking. This allows you in the winter to push snow directly off the deck. During the balance of the year, it allows for easy drainage and cleaning.
Many types of handrail systems and parts are readily available. This includes the Artisan white handrail system which has been upgraded to accommodate white balusters, colored Trex balusters or the ¾" round metal balusters, all readily available. Trex offers parts to build a handrail system just like you would out of redwood or more elaborate parts for a fancy system. Many decks combine Trex parts and metal balusters.
Trex strictly outlines how stairs should be constructed using their product. Four stair stringers must be used, with a maximum 12" span.
Superstructure
You are constructing a deck that should last many years. Even if it requires you to downsize your deck to stay on budget, we strongly urge you to build the framework with that same long life in mind. This includes using treated lumber even if the deck is not close to the ground with end coat solutions on all cuts. We recommend 2×10 or greater joists for best performance. Other items to watch are adequate numbers of supporting posts, properly coated (Z-MAX) joist hangers with the proper fasteners and lateral bracing as necessary.
Trex between joists should be spanned as follows based on your layout:
| | | |
| --- | --- | --- |
|   | Diagonal | Perpendicular |
| 1×6 | 12″ | 16″ |
| 2×6 | 16″ | 20″ |
Use hex head (machine) bolts with nuts and lock washers to properly hold connections. Connections need to be held tightly or expansion/contraction will loosen them over time. When mounting, we advise that you pre-drill through 4×4's with an oversized bit. For example, drill 9/16" for ½" bolts.
Unlike regular lumber, Trex is very flexible. Due to that flexibility, the length and the weight (2×6=3.44 lbs per LF, and 4/4=2.42 lbs per LF) makes it somewhat difficult to move for one person alone. Save your back, recruit some help when you need to carry any Trex. The good thing Trex's flexibility is it can be bent for curved decks. See us specific information.
Health and Safety
No specific safety concerns are involved when working with Trex; however treated lumber for your framing does suggest some additional safety measures. Our staff can readily supply additional information.
Painting/Staining & Exposure to Weather
Trex is a low maintenance product. Paints and stains are not recommended because the product may not properly absorb them. They will tend to wear off rapidly in high traffic areas and will peel in certain environmental conditions. Trex is designed to age to its final color after a short period of exposure to the sun.
Trex Care and Cleaning
Over time, decks collect dirt and debris. Typical household cleaners applied with a broom and rinsed with the garden hose should clean your deck. If the deck is not adequately cleaned by this method, a commercial deck washing product may be used. Be sure to follow the cleaning product manufacturer's instructions and safety guidelines. Note: Unless you have a mildew or mold staining problem, cleaning products based on sodium hypochlorite (Chlorine bleach) are not recommended.
We do not recommend you "spot clean" or clean only a section of the deck. You should clean the entire deck surface. Deck cleaning solutions may lighten the color of the deck, and cleaning the entire deck surface avoids the potential for color variation between the cleaned and un-cleaned areas.
Pressure washing and steam cleaning are NOT generally acceptable alternative methods for cleaning Trex boards. When pressure washing, be sure to maintain a tip-to-surface distance of at least 10". Mis-use while pressure washing can damage the product.
Never sand to remove a stain.
Mold, Algae or Mildew Staining
This type of stain usually occurs in shaded areas exposed to continuous amounts of moisture. Sometimes pollen and dust accumulation provides food and moisture for this type of growth. Keep your deck clean by sweeping or washing with a hose.
These stains should be easily removed by using a cleaner containing Sodium Hypochlorite*. Caution should be used when using this type of material as it can damage plants, clothes and skin. To prevent damage to plants or grass soak them down with water. After cleaning the deck, flood any areas where the plants or grass were exposed to the cleaning solution. When using this type of cleaner you may have to use a stiff broom to work the cleaning solution into the stained areas.
Rust or Metal Staining
Use a cleaner that contains Phosphoric acid*. This type of cleaner is available at most home centers, lumberyards or hardware stores. Caution should be exercised when using this type of cleaning method.Tannin Staining
Oil or Grease Staining
These types of stains should be avoided if at all possible. They must be cleaned up immediately. Oil and grease soak into the deck boards very quickly and penetrate deeply into the surface. Oil Eater Cleaner and Degreaser* is effective against oil and grease stains.